Ryan and I recently had the opportunity to get away for a few days and escape to NYC. This was a dream destination of mine, and  I'm glad to have experienced it, but after going I've realized that I really enjoy my slower pace of life – even with 8 kids! This trip involved a little work and a little play so we were limited on how much we were able to squeeze into our days, but we did accomplish most of what we came to see; however, we were disappointed we didn't make it to the 911 memorial.  We were in the area but just not understanding where it was and due to the language barrier of some of the people we asked, we gave up.  Up front admission – our airline tickets were free.  We were bumped on a flight last year and given with free tickets so that did help keep costs down significantly.
Lodging
We stayed in an apartment we found on VRBO in the heart of Brooklyn. This place was amazing.  One bedroom with a full kitchen, full bath, and living space.  This was an up and coming area of Brooklyn (aka more affordable options), and we loved the diversity, the eclectic scene with cool restaurants, and organic markets and everyone (for the most part) was very friendly and helpful. The grocery store was a five minute walk and the subway station approximately 10 minutes away. We ate breakfast and a few dinners here to save money as well. This place cost $110 a night.
Transportation
We purchased a metro card – a MUST.  We rode the subway constantly and paid $33 for a 7 day pass. The subway brought us anywhere we needed to go, and honestly was by far the most affordable way to travel (outside of walking which we did a lot).
Meals
Food is much more expensive in NYC – restaurants, groceries, everything – pricey. A deli sandwich is easily $20.  We bought groceries and cooked occasionally but we did find a few ways to save out on the town.  All over NYC there are food vendor trucks selling rice dishes – rice with chicken and veggies, rice with beef and veggies, you get the point.  These are huge bowls of food for $9.  Ryan and I split one and it was plenty of food.  Also, Chinatown is awesome for tons of food on the cheap.  Again, a whole meal for $9.00 that can easily be split or saved for another meal. Lunch is a much more affordable option.  We dined at Benitos for lunch (around 2:00) – a world famous Italian restaurant in Little Italy. The lunch special was huge and included a salad, a full pasta dish, and a full entree for $15.00.  We could have easily split this amazing meal and saved ourselves very sore stomachs, but we didn't and skipped dinner instead. And finally, with a little research, there are happy hour deals everywhere – mostly on drinks and appetizers.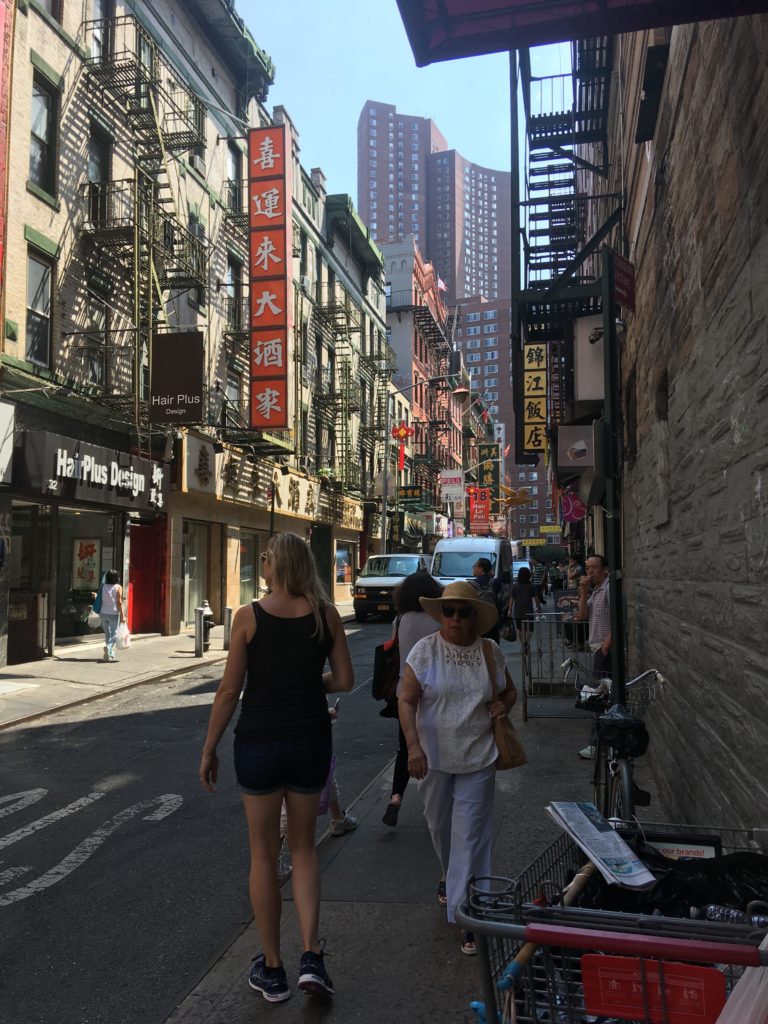 Broadway tickets. 
I can tell you how not to do this.  We visited numerous TKTS offices daily to check on ticket prices (TKTS offices are where they sell cheap Broadway tickets but you have to show up daily to check and purchase).  We didn't really have a plan or a show in mind so we'd look at the selections and then decide to wait for another day.  Well, waiting turned into Monday, and if we were going to see a show it was our only remaining option and come to find out they don't offer many shows on Mondays. TKTS was no longer an option.  We decided to see Wicked at 7:00 Monday evening.  We trekked on over to the Wicked ticket booth and begged for discounted tickets.  It didn't work.  They told us there was a lottery that evening where we could win $30 tickets. YAY! And we were told we probably had a great chance at winning because Monday's were never busy. YAY! This particular Monday had about 150 people vying for $30 tickets.  We didn't win.  We paid full price for our tickets.  Live and Learn.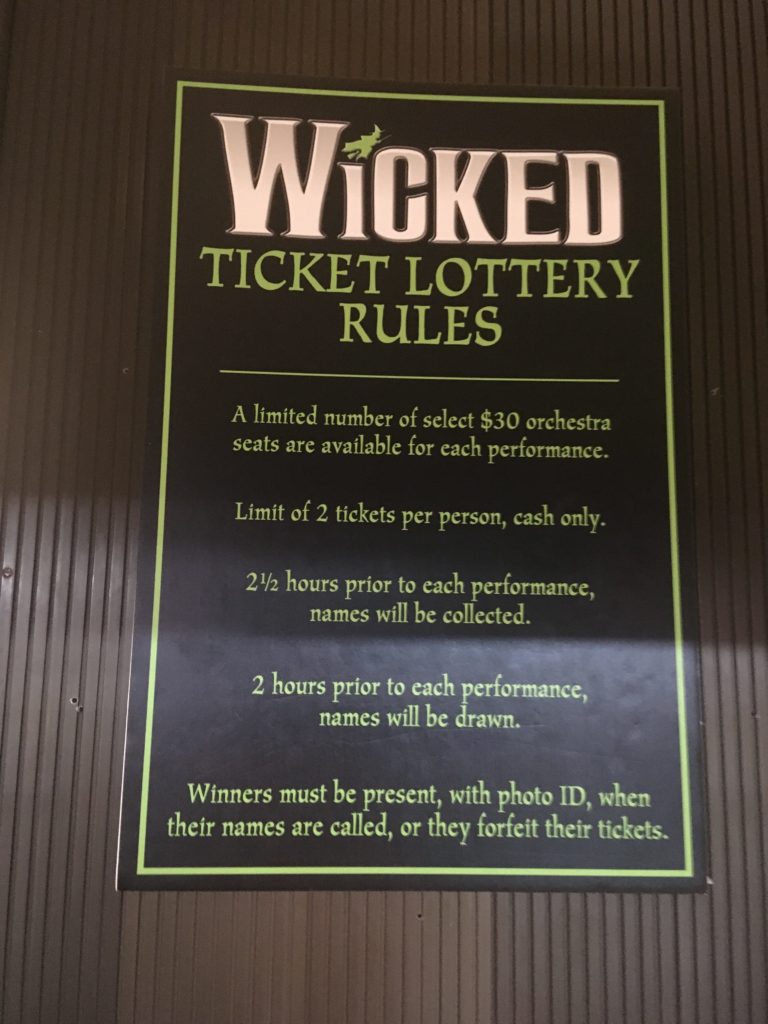 Souvenirs
CHINATOWN.  T-Shirts 5 for $10. Hats 3 for $10. Cute little money holders and magnets $1.00. Enough said.
Spa 
CHINATOWN. Couples massage $70. Best massage ever although I would recommend checking out the reviews on Travelocity first.  Most of the massage parlors do look a little bit seedy and some do have signs expressing their disgust for customers who have expectations for "extra" so… just be vigilant (maybe don't let your loved one go alone, lol), and do the research.
Extra Freebies
Stanton Island Ferry is free and offers a fantastic shot of the statue of liberty and all of downtown.
Central Park is Free and you could get lost in there for hours and we did! Bring lots of water and food.
Bring a refillable water bottle.  There are stations all over the city to refill.
Brooklyn Bridge is free and fun
Tram that goes over the Brooklyn Bridge is $3.00 a person.
Always tons of free events in the parks – markets, craft shows, yoga, pick up games.
And New Yorkers are much more friendly and willing to help than their reputation suggests – go ahead and ask, they'll be happy to help.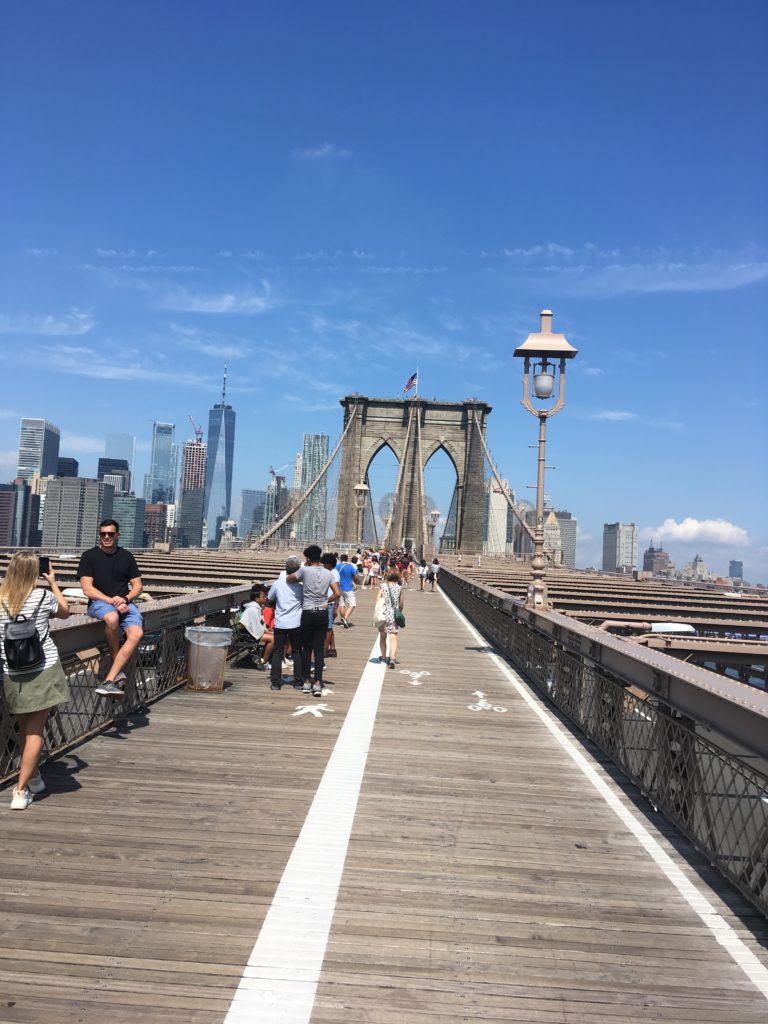 Ok, that's it from my experience!  Comment below if you have anything else to offer.  Best of travels to those of you headed to the big apple soon!
Just keep livin!