Disclaimer – This post is looking at broad, societal generalizations of two strikingly different personality types.   It is merely my understanding of how these personalities interact together on a very small scale of life otherwise known as the Ronne household and how we can successfully mesh them together to create a peaceful and harmonious environment beneficial for all of the family members involved.   
The writing was on the wall from the day I married this man and became mom to three new children.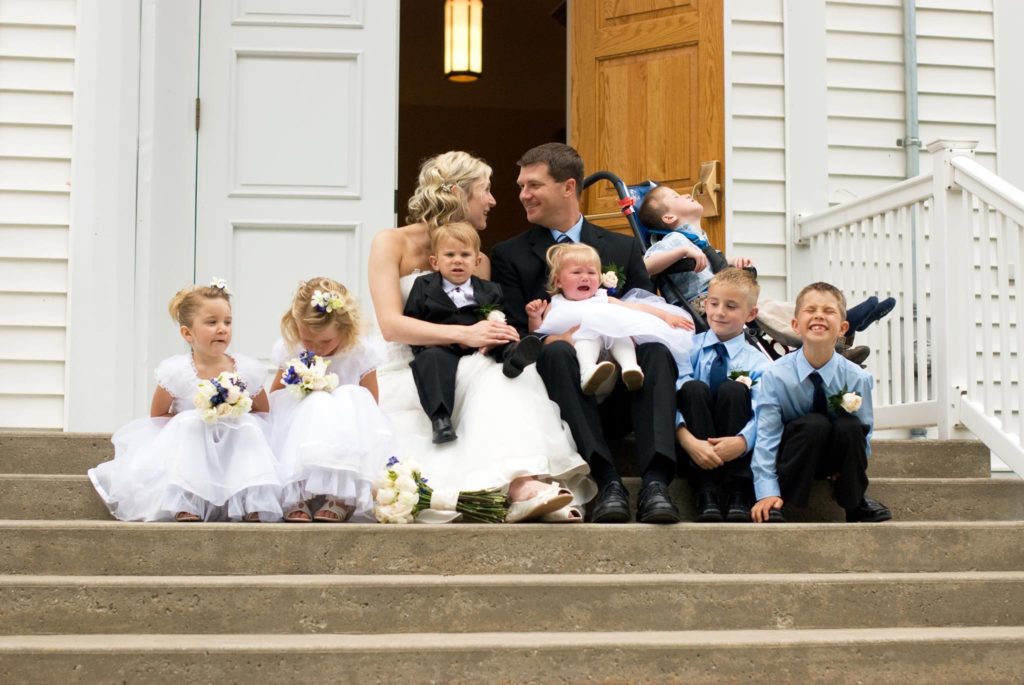 It was always there, right in my face, prominently displayed upon our fireplace mantel for the whole world to see, but I never saw what the picture was really saying, speaking to me in a still, small, quiet picture voice.  You see, if you look closely at this picture, you will notice mostly subdued, tired, calm looking children, with two subdued, calm looking parents, that's what will catch your eye, mostly… except for two of the beings in the picture.  Two children who I would be adopting within the year and becoming legally mom to, two children who I would choose to love as my own, regardless of the lack of bonding I had with them during the early years, two children who would cause me to repeatedly bang my head against a wall in despair and guilt over feeling like I was failing them as a mother because I could not for the life of me figure out why they ticked the way they did, two children with so much joy, so much life, so much exuberance, so much energy, and SO MANY FREAKIN WORDS ALL THE TIME.
I have researched, labeled, prayed, and attempted to reason with these blessings from above in an effort to wrap my mind around how they tick, why they are wired so differently from anything or anyone I've ever mothered or experienced before, and I've come to the realization, almost three years into knowing them, that it all boils down to two words, two words that have freed me from the confines of guilt within my inner soul in ways I never knew possible and opened my eyes to a realm of possibilities, those two words being so simple, yet so profound:
INTROVERTED – ME
EXTROVERTED – THEM
This moment of revelation, where the Heavens opened up and rang down answers, was a day that happened quite by accident when I stumbled across one woman's blog entry about being an introverted mom raising an extroverted child and how challenging it was for her and then the fire was eternally stoked. I knew in an instant that I had unearthed the deep mystery of my reality as well and it all started to click.   I spent hours that day researching anything and everything I could find on this very eye opening discovery.  Tate and Jada are extroverted –straight up extroverted, and I am straight up introverted, as are the other 5 children in the family, including the four who have come from my very own loins and as frustrating as it has been for me, I have to imagine these two children have been equally as confused and frustrated, especially ten year old Tate who had a whole new form of motherhood to contend with and adapt to.  A mom who didn't want to talk about everything, a mom who needed to decompress often, a mom who would jam head phones into her ears to avoid speaking or interacting for periods of time, a mom whose eyes would glaze over in the morning as he bounded down the stairs eager to fill her ears with every single thought that had passed through his mind during the evening.  These two children love to talk, need much less sleep than the rest of us introverted souls, and always, always want to be doing something social.  Their batteries are recharged through going places, seeing people, seeing the world, flinging decorative throw pillows around the room, getting reactions, negative and positive reactions doesn't matter as long as it leads to someone or something acknowledging and conversing with them, constantly pestering their siblings for the same type of reactions, expressing every single feeling very vocally and very externally, and attempting to fix the funk their introverted mother appears to be in occasionally by doing what they would love to have done for them in a similar situation –BY TALKING, whereas I'm screaming in my head, PLEEEASE…. just give me two seconds to THINK.    
Introverts do very little of any of this because most actions exhaust us after a certain amount of time.  Introverts process almost everything internally and by the time something comes out of our mouths we have thought it through, completely and thoroughly, including any implications that may be involved, and we have deemed it worthy to be vocalized or written to the world as something we stand behind and give our stamp of approval upon (thus many introverts are writers). We are very much homebodies, avoid small talk (it doesn't seem worthy of the energy), need a significant amount of sleep, and have a much lower need to be social, but that's not to say we don't have friends, we are very loyal people and once we actually allow you into our realm of trust, you will be there for a very long time, therefore our circle of intimacy is usually quite small.
The world, especially our American world, is much kinder and more welcoming to extroverts.  We as a culture encourage stress, constant movement,  making all the friends and social media contacts as can possibly be made, loud, inhibition less actions,  excessive congregating and forming groups for this and that and attending  this class, and that Bible study and if you don't, Why in heavens name wouldn't you? Don't you want to grow spiritually with other believers?   Are you struggling spiritually?  Are you backsliding?  What in the world is wrong with you?
Extroverts give the appearance of being much more loving and giving as people than the introverted crowd, generally  basking in the joy of being social, giving back, setting up charities and organizations, hob knobbing with all the people of the world about the next big fundraiser or activity planned and while this is a true characteristic of an extrovert, there is also something inherently and often times unconsciously selfish in these actions in that the acts themselves fill something inside of the extrovert; they fill a void required through this outlet of social stimulation. 
Now contrast this with the introverted perspective on life. No, I probably don't want to go to every activity and class out there, not even probably no, just straight up no.   My brain needs a lot of time to decompress, alone, or with a single person, either a close girlfriend or my husband.  I enjoy reading something, simply and quietly in the privacy of our home.  Introverts aren't necessarily rude people although our behaviors are often misinterpreted as rude, we are just very intense people who need to get away from it all and reenergize ourselves; in contrast to the extrovert who gains energy from people and a constant social life, introverts loose energy at pretty rapid paces when we are called upon to be always socially available, not to mention it can cause some massive headaches because it's just not how we are wired.   It's not even that we don't want a social life, we just realize that it will drain us, and we will pay for it with hours of down time and medication later.   Ryan and I love date night and 90% of the time it's just the two of us, in a quiet place, chatting about life.  Occasionally we double date with people who are very dear to us, and although we enjoy it, the time leading up the event can cause some anxiety because we both realize how much more  it will take out of us to double date, this feeling of being "on" for other people.  Introverts totally understand this, extroverts think we're nuts because we can't and won't stay out until midnight, soaking in the moment, chatting and dancing the night away.  If we did this, we would need to regroup for a month.  It's exhausting to feel like you need to be on all the time and introverts feel this especially in the presence of an extrovert. 
Bottom line, I love these children fiercely.  Being introverted, I will take some time to process this, claim it as my reality, and then my first born nature will kick in, and I will make it as right as I possibly can by our family. I hope to have some practical suggestions to share in the next post for other introverted parents struggling as well or if you have suggestions, please let me know in the comments.  Ignorance can seem to be blissful for a period, but knowledge is ultimately the most powerful force.
I'm exhausted, time to decompress with a nap…
Just keep livin!!